11.04.2017 18:09
Digital cameras, action cams, and smartphones are very portable and let you capture high-quality footage in a variety of settings
The era of the shoulder-mounted camcorder has come and gone. Years ago it seemed like at every family event, one person would be dutifully shooting from the back of the room, often with their camera mounted on a tripod. Today those static shots look like surveillance footage, says Atlanta videographer Sarah Clawson, who shoots about 25 weddings per year with her husband, Scott.
"It's all about getting the angles," she explains. "If you're on a tripod, you're very limited." Clawson and her husband roam freely through the events they record using digital SLR cameras. They own pricey pro-grade models, but you don't have to splurge to get great results from a still camera. And in many situations a smartphone will do just fine, as will one of the current crop of highly portable action cams.
Yes, you can still find traditional camcorders for sale, but they're declining in popularity because the alternatives are more portable and versatile.
The video quality produced by phones, still cameras, and action cams ranges from pretty darned good to positively stunning. That has been apparent since 2012, when clips shot on an iPhone made their way into the Oscar-winning documentary "Searching for Sugar Man." Felix Baumgartner's daring leap from a capsule at the edge of space? It was recorded on a GoPro. And "The Avengers" arrived in theaters with scenes captured on a $2,000 Canon 5D Mark II, a model that even a dedicated amateur might own.
As the season of family celebrations—graduations, weddings, and summer vacations—approaches, everyone in your clan will be looking to capture the action. Here are a few pro tips to help you decide which device to take with you on any given day—and how to get the most rave-worthy results.
Smartphones, $500 to $800
What they do well: Your smartphone is usually right there in your pocket or purse, and it's easy to handle. "That's what makes smartphones great," Clawson says. "You can bend over with them, lay on the ground, just play around." The large touch screen is ideal for framing and composing shots. And an ever-growing catalog of features and mobile apps lets you flex your inner Martin Scorsese. Want a time-lapse video of an awesome sunset? No problem. A slow-motion clip of the bride's flower toss? Coming right up!
Where they struggle: Smartphones have small image sensors, which tend to hinder performance in low-light situations. That makes it difficult to capture crisp video at night or in any indoor setting that's not flooded with sunlight. And most smartphones don't have built-in optical zoom lenses: The image just gets fuzzier when you try to zoom in with digital technology.
Cutting-edge features: Apple's iPhone 7 Plus camera is one of the few with a 2x optical zoom feature; Motorola's Moto Z Force Droid offers an add-on accessory that turns the phone into a mini movie projector.
Pro tip: "People have no idea how much the lighting around the house contributes to an ugly yellow picture," Clawson says. "Turn off the lights, open all the window blinds, and you'll be amazed at the difference in video quality."
Cool accessory: Ikan Fly-X3-Plus, $250. This handheld gimbal eliminates shakes and helps you create fluid shots, complete with pans and tilts. It uses a mini motor, software, and a three-axis stabilizing system to hold the camera steady, even while you walk.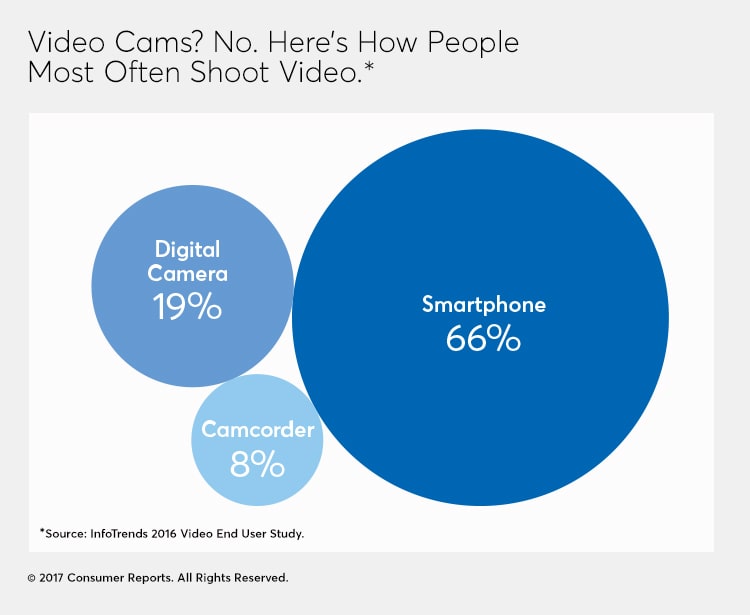 Action Cams, $100 to $600
What they do well: Rugged and simple to use, action cams let you record life from unexpected angles. Add some accessories and they can soar on drones, ride along on surfboards, and venture beneath the waves. Most offer mobile apps that let you adjust settings using a smartphone. They also store video files on microSD cards, which can be quickly replaced, so you don't miss out on the action.
Where they struggle: Like smartphones, action cams are unimpressive in low light because they have small image sensors. They usually lack optical zoom, too. And they have limited controls. Unlike old-school camcorders, they don't always have LCD screens to help with image composition. But you can rectify that problem with a mobile-phone app.
Cutting-edge features: The latest models from GoPro (the $400 Hero5 Black and $300 Hero5 Session) and Garmin (the Virb Ultra 30, $400) respond to voice commands. Instead of reaching for a button, you just say, "GoPro, start recording!"
Pro tip: "Most action cams capture a wide-angle view," says David Patiño, who is based in New Jersey and shoots live events and interviews for commercial clients. This makes them good for recording group portraits. But if you're trying to spotlight an individual and your camera lacks an LCD, you often get more earth and sky than you'd like. So try composing your shots on the device's smartphone app. "It allows you to see everything the camera sees," Patiño says.
Cool accessory: The Chesty, $40. This adjustable harness lets you fasten a GoPro securely to your chest, freeing up your hands to, say, grip ski poles or a rafting paddle.
Digital Cameras, $250 to $400 for basic; $500 for advanced
What they do well: Thanks to large image sensors and quality lenses, digital cameras—even $600 advanced point-and-shoots—allow you to snare very good video indoors and out, day or night, even under candlelight. That's why the pros reach for DSLRs when shooting weddings and corporate events. "They're more difficult to use," Clawson says. "But they give you a cinematic look and quality. It's like viewing a movie trailer." Certain models offer swiveling displays for composing hard-to-reach shots, most can accommodate memory cards with capacities as large as 512GB, and interchangeable-lens cameras can be outfitted with a variety of lenses that create shallow depth of field, panoramic views, or a zoom powerful enough to capture the craters on the moon.
Where they struggle: Many have a 30-minute recording limit. And the bulkier they are, the more difficult they can be to hold without subjecting your videos to shaky-hand syndrome. Long lenses, especially, can amplify the effect of shivers, so these cameras often have some form of optical or mechanical image stabilization.
Cutting-edge features: Sony's RX100 Mark V point-and-shoot has a very wide-aperture, f/1.8-2.8 lens that lets you capture video with a shallow depth of field—a visual effect once confined to high-end camcorders.
Pro tip: According to Jeff Berlin, a Los Angeles photographer who does film work for various entertainment companies, a camera's swiveling LCD screen is a great way to resolve the shakes problem. With the screen flipped open, you hold the camera firmly at waist level, lock your elbows against your body, and look down at the LCD to frame the footage. "With this technique," he says, "people will think you were shooting on a tripod or a stabilizer."
Cool accessory: Rode VideoMicro Compact On-Camera Microphone, $60. If you want high-quality audio to accompany your video, try this shotgun microphone, which slides into the silver hot shoe mount on top of a DSLR. It records the voices and sounds in front of the rig while reducing the impact of chatter, laughs, and other commotion on the periphery.
A note on 4K: The people who make cameras love to promote their ability to shoot 4K video. But ultra high-definition is not for everyone. "Unless you have a really good 4K TV to display the work," Clawson says, "the average consumer is not going to see the difference." Who will? Those who want the extra pixels to crop and edit their work using computer software.
Editor's Note: This article also appears in the May 2017 issue of Consumer Reports magazine.
Terry Sullivan
I've been writing about tech since the 1990s and joined Consumer Reports in 2007. I cover audio-related devices, like headphones, and digital-imaging products, like cameras and printers. When not making fine art with a camera or oil paint, I also jam with my band, The Not-For-Prophets. I live on Long Island with my wife and kids.